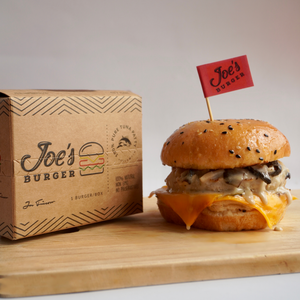 (9.3oz)
Meet Joe Flizzow's perfect burger! Made with 100% Pure Premium Yellowfin Tuna patty, Cheddar cheese, Japanese melty cheese, Portobello Mushrooms, Caramelised Onions, Garlic, Butter, and light seasoning of salt & pepper.
Nutrition
Energy: 468kcal
Protein: 37.14g
Carbohydrates: 39.86g
Fat: 17.28g
Fibre: 2.8g
Other Information
May contain traces of fish, seafood, milk, wheat, gluten, yeast, nuts, soybeans or sesame. Not suitable for those allergic to these ingredients. Meal lasts up to 1 year in the freezer.