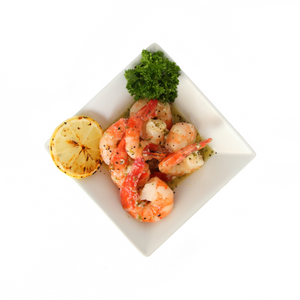 (160g)
Our Butter Parsley Prawns are made with juicy big shrimps marinated in garlic butter, parsley, salt, and a dash of lemon for the extra zest. Our prawns are high grade tiger prawns which are live frozen and not treated with STPP to make sure they are safe, hygienic and fresh. Any fresher and it would be alive!
Nutrition
Energy: 259kcal
Protein: 23.03g
Carbohydrates: 3.96g
Fat: 17.31g
Fibre: 1.7g
Sodium: 560mg
Other Information
May contain traces of fish, seafood, milk, wheat, gluten, yeast, nuts, soybeans or sesame. Not suitable for those allergic to these ingredients. Meal lasts up to 1 year in the freezer.