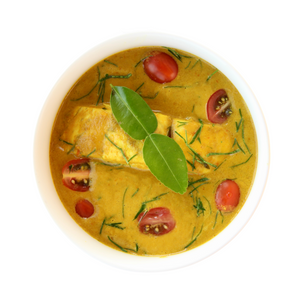 (200g)
Our pure white Barramundi fish is marinated in a creamy mix of coconut milk, turmeric, shallots, garlic, oil, ginger, candlenut, lemongrass, chilli, chicken stock, kaffir lime leaves, sugar, salt and topped off with cherry tomatoes. It is prepped using the Ikejime method (a Japanese fish preparation method) which preserves the fish's flavour, tender texture and keeps it ultra-fresh.
Nutrition
Energy: 324kcal
Protein: 19.67g
Carbohydrates: 21.05g
Fat: 15.97g
Fibre: 4.2g
Sodium: 486mg
Other Information
May contain traces of fish, seafood, milk, wheat, gluten, yeast, nuts, soybeans or sesame. Not suitable for those allergic to these ingredients. Meal lasts up to 1 year in the freezer.