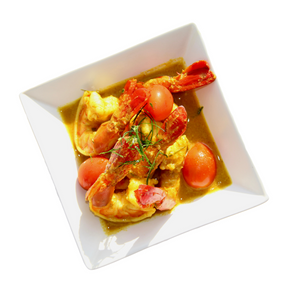 (200g)
Our Coconut Turmeric Prawns is made with juicy prawns marinated in a creamy mix of coconut milk, turmeric, shallots, garlic, oil, ginger, candlenut, lemongrass, chilli, chicken stock, kaffir lime leaves, sugar, salt and topped off with cherry tomatoes. Our prawns are high grade tiger prawns which are live frozen and not treated with STPP to make sure they are safe, hygienic and fresh. Any fresher and it would be alive!
Nutrition
Energy: 374kcal
Protein: 28.88g
Carbohydrates: 21.29g
Fat: 17.71g
Fibre: 4.2g
Sodium: 1220mg
Other Information
May contain traces of fish, seafood, milk, wheat, gluten, yeast, nuts, soybeans or sesame. Not suitable for those allergic to these ingredients. Meal lasts up to 1 year in the freezer.