Honey Orange Glazed Salmon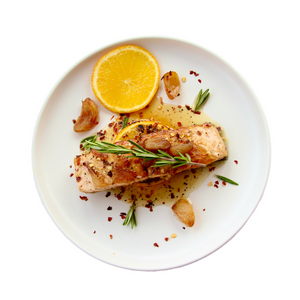 (180g)
Delicious tender Salmon in an orange honey glaze made with oranges, honey, olive oil, garlic, shallots, and a pinch of salt and black pepper. Topped up with chilli flakes, rosemary, and an orange slice for added freshness and flavour!

Nutrition
Energy: 513kcal
Protein: 25.57g
Carbohydrates: 24.27g
Fat: 35.5g
Fibre: 1.4g
Sodium: 738mg
Other Information
May contain traces of fish, seafood, milk, wheat, gluten, yeast, nuts, soybeans or sesame. Not suitable for those allergic to these ingredients. Meal lasts up to 1 year in the freezer.