All Salmon Bundle (3x3 Salmon Meals)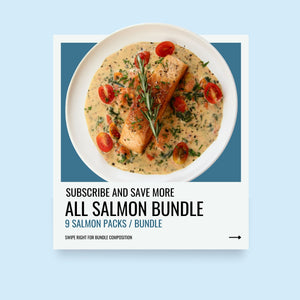 Calling all salmon fish lovers and pescatarians!
Calling all Salmon fish lovers and pescatarians! Our All Salmon Bundle has 3 each of our 3 salmon fish flavours. They go perfectly well with our sides and bases and is perfect for 9 protein meal portions:
3x Creamy Tuscan Salmon
3x Honey Orange Glazed Salmon
3x Salmon Teriyaki
🍳 METHOD OF COOKING🍳:
From frozen (No defrosting needed)
Option 1: Boil (Sous-Vide)
Bring water to boiling point.
Submerge pack.
Set timer for 10-15 minutes and close lid.
Option 2: Chef Mode
Defrost and cook according to your preference and recipe!