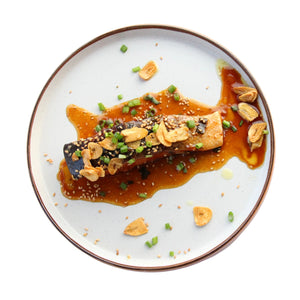 (180g)

Ingredients

Our salmon fish is marinated in a light soya sauce glazed with honey and topped with ginger, spring onion, garlic and sesame seeds
. Pair this with some edamame and brown rice for a perfect Japanese salmon teriyaki bowl.
Nutrition
Energy: 347kcal
Protein: 26.06g
Carbohydrates: 25.95g
Fat: 15.84g
Fibre: 0.9g
Other Information
Contains fish. May contain traces of seafood, milk, wheat, gluten, yeast, nuts, soybeans or sesame. Not suitable for those allergic to these ingredients. Meal lasts up to 1 year in the freezer.