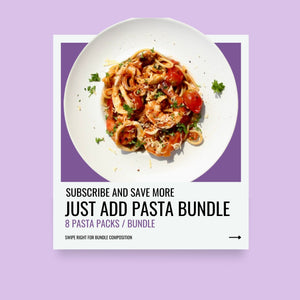 Just add your favorite pasta to our Just Add Pasta packs and you'll have a delicious pasta in minutes!
Calling all pasta lovers! Our Just Add Pasta Bundle has 2 each of our 4 pasta flavours. They go perfectly well with any pasta of your own choice and is perfect for 4 pasta meals for 2 pax. All you have to do is boil our pasta packs and your favorite pasta (pasta not included) and you'll have a scrumptious pasta meal in minutes! Each bundle contains:
2x Vegan Aglio Olio
2x Tiger Prawns Aglio Olio
2x Mushroom Carbonara
2x Seafood Marinara
🍳 METHOD OF COOKING🍳:
From frozen (No defrosting needed)
Option 1: Boil (Sous-Vide)
Bring water to boiling point.
Submerge pack.
Set timer for 10 - 13 minutes and close lid.
Boil pasta of your own choice and mix with the contents from the pack for a ready pasta meal
Option 2: Microwave
Remove content from pack and place onto a microwave-safe container. Microwave for 3-4 minutes or until fully cooked.

Option 3: Chef Mode
Use ingredients as you see fit & let your creativity take over!