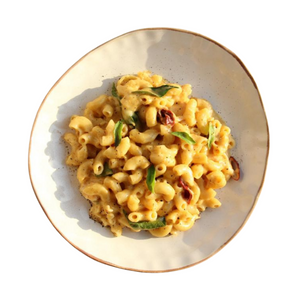 (280g)
Ingredients

Our Salted Egg Yolk Mac & Cheese is made with cooked pasta, cream, salmon, mozarella, egg yolk, butter, olive oil, cheddar cheese, curry leaves, dry chilli, seasoning and topped with some salt and black pepper.
Nutrition
Energy: 682kcal
Protein: 22.59g
Carbohydrates: 38.56g
Fat: 48.97g
Fibre: 1.8g

Other Information
May contain traces of fish, seafood, milk, wheat, gluten, yeast, nuts, soybeans or sesame. Not suitable for those allergic to these ingredients. Meal lasts up to 1 year in the freezer.