Brazilian Grilled Pineapple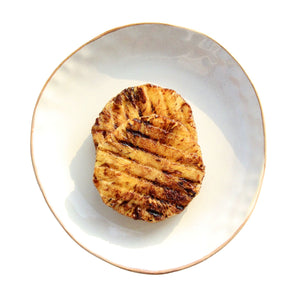 (180g)

Ingredients

Our Brazilian grilled pineapple is made of premium
pineapples
, lightly grilled with
cinnamon powder
and
extra virgin olive oil.
Pair these juicy caramelized pineapples with your salad bowls or grilled meats and you'll have yourself a delightful meal.
Nutrition
Energy: 96kcal
Protein: 0.99g
Carbohydrates: 24.02g
Fat: 0.72g
Fibre: 2.8g
Other Information
May contain traces of fish, seafood, milk, wheat, gluten, yeast, nuts, soybeans or sesame. Not suitable for those allergic to these ingredients. Meal lasts up to 1 year in the freezer.