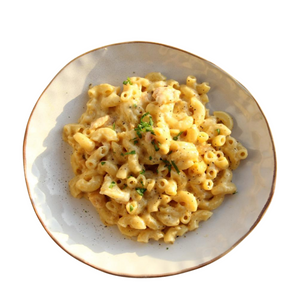 (280g)
Ingredients

Our Salmon Mac & Cheese is made with cooked pasta, cream, salmon, mozarella, butter, cheddar cheese and topped with some parsley, seasoning, salt and black pepper. An absolute favorite with kids!
Nutrition
Energy: 580kcal
Protein: 21.49g
Carbohydrates: 39.27g
Fat: 38.1g
Fibre: 2.2g

Other Information
May contain traces of fish, seafood, milk, wheat, gluten, yeast, nuts, soybeans or sesame. Not suitable for those allergic to these ingredients. Meal lasts up to 1 year in the freezer.