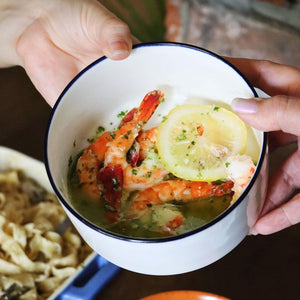 (160g x 8)
Our tiger prawns are marinated, deshelled and deveined for the ultimate convenience. All you need is a pot of boiling water, several minutes and you'll have yourself a perfect prawn cocktail dish to share with loved ones. Serve with garlic bread on the side and use the leftover sauce as a dip. Each bundle contains:
- 4x Gambas Al Ajillo
- 4x Butter Parsley Prawns
Prawn Cocktail Recipe
From freezer, take out Meals In Minutes Butter Parsley Prawns and/or Gambas Al Ajillo

Boil packs for 10-13 minutes in boiling water

Separate sauce in a bowl or a champagne glass and loop shrimp over the edge of glass/bowl

(Optional) Dip toasted garlic bread with leftover sauce
Nutrition (Each serving)
Energy: 262kcal
Protein: 23.01g
Carbohydrates: 5.18g
Fat: 17.4g
Fibre: 2.6g
Other Information
May contain traces of fish, seafood, milk, wheat, gluten, yeast, nuts, soybeans or sesame. Not suitable for those allergic to these ingredients. Meal lasts up to 1 year in the freezer.