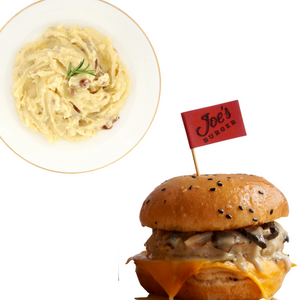 Description
Prepare a feast in minutes for your gatherings with our Joe's Burger and Red Mashed Skin Potato set. All you need is a microwave and/or pot of boiling water. Each bundle contains 5 Joe's Burger and 5 Red Mashed Skin Potato, perfect for a burger party of 5!
Instructions / Recipe

From freezer, take out Meals In Minutes Joe's Burger and Red Mashed Skin Potatoes

Boil mashed potato packs for 15 minutes in a pot of boiling water

Separately, microwave Joe's Burger according to instructions on label

(Optional) Add some salad leaves and/or tomato slices in burger if desired

Plate and serve as a set!
Other Information
May contain traces of fish, seafood, milk, wheat, gluten, yeast, nuts, soybeans or sesame. Not suitable for those allergic to these ingredients. Meal lasts up to 1 year in the freezer.